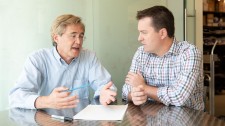 The NIH funds an initiative at the Gladstone Institutes to assess the safety of CRISPR-like therapies in human tissues
SAN FRANCISCO, October 10, 2018 (Newswire.com) - As genome editing technologies quickly advance toward clinical therapies, they are raising hopes of a completely new way to treat disease. They are also bringing to light a number of challenges that need to be addressed before potential treatments can be widely used in patients.
To tackle these challenges and fuel efforts across the country, the National Institutes of Health (NIH) launched the Somatic Cell Genome Editing program. Among the program's first grant recipients is a group led by Todd McDevitt, Ph.D., senior investigator at the Gladstone Institutes. The team was awarded more than $3.6 million over the next 5 years to assess the safety of genome editing in human cells and tissues.
This program is funded by the NIH's Common Fund, indicating the importance—and promise—of genome editing technology, such as CRISPR-Cas9.

Deepak Srivastava, MD, President of the Gladstone Institutes
Jennifer Doudna, Ph.D., a senior investigator at Gladstone and a professor at UC Berkeley, also received funding to expand the current toolkit for human genome editing by exploring new CRISPR-Cas proteins and enzymes that can repair DNA.
"This program is funded by the NIH's Common Fund, indicating the importance—and promise—of genome editing technology, such as CRISPR-Cas9," said Deepak Srivastava, MD, president of the Gladstone Institutes. "We are proud that Gladstone investigators are in a position to have a significant impact on shaping this field and its future clinical applications."
For his project, bioengineering expert McDevitt has joined forces with another senior investigator at Gladstone, Bruce Conklin, MD, who is pioneering an approach called "genome surgery," which reflects the precision of customizing genome therapies to individual patients.
Together, they assembled a team of leading investigators with complementary experience in tissue engineering, genome editing, gene therapy, stem cell biology, and single-cell genomics. Their collaborators include Andrew May, DPhil, from the Chan Zuckerberg Biohub, as well as Luke Judge, MD, Ph.D., and Nicole Paulk, Ph.D., from UC San Francisco (UCSF).
"Our primary objective is to develop platforms that can accurately detect adverse effects of genome editing on physiological function," said McDevitt, who is also a professor in the Department of Bioengineering and Therapeutic Sciences at UCSF. "By evaluating possible safety and toxicity issues in human cells and tissues, we hope to help avoid unanticipated effects in future clinical trials."
Genome editing consists of making changes to a person's DNA to remove, insert, or replace certain genes. So far, researchers have focused on exploring whether these edits are being made in the correct genes and whether other parts of the DNA are unintentionally affected.
The new project proposed by McDevitt's group will expand current knowledge by also examining whether genome editing could lead to unexpected changes in the function of cells or tissues. More precisely, they will study the extent of DNA damage that can be tolerated before causing adverse functional consequences.
To do so, they will combine state-of-the-art methods for engineering human microtissues from stem cells with novel approaches for inducing precise genome edits and detecting any detrimental DNA damage.
McDevitt will leverage his laboratory's expertise in developing human microtissues that faithfully mimic the way different cell types are organized and function as complex tissues. These models will serve as an ideal platform to identify and quantify adverse outcomes in response to genome editing.
"With the 3D environment of microtissues, we can study how cells cooperate and determine whether edits to one cell cause unpredicted consequences to adjacent cells," explained McDevitt. "As a result, these tissues can be much more predictive of physiological effects than single cells grown in a dish."
The research group will test different editing methods in heart, brain, and liver microtissues, given that all three of these tissues have relevant disease applications. For instance, many forms of heart disease and neurodegenerative diseases are caused by genetic mutations that could potentially be treated with genome editing.
"Microtissues provide an essential test prior to any human trial," said Conklin, who is also a professor the Departments of Medical Genetics and Molecular Pharmacology at UCSF. "Since animal models are often poor predictors of activity in humans, few methods exist to determine both intended and unintended consequences of therapeutic interventions. Microtissues, however, will help predict the exact type of genome editing event that could be toxic to aide in the design and monitoring of safer clinical trials."
For the first 3 years of the study, the research team will develop methods to detect the frequency and types of off-target genome edits that occur and correspond to specific adverse outcomes in live human cells and tissues. Then, they will use their systems to test new genome editors developed by other members of the Somatic Cell Genome Editing program to further refine and optimize their approach.
Ultimately, McDevitt, Conklin, and their collaborators will share their models for widespread use by other program members. In doing so, they hope to provide the scientific community with a critical new platform to assess both the safety and effectiveness of genome editing therapies before they are routinely tested in clinical medicine.
###
About the Gladstone Institutes
To ensure our work does the greatest good, the Gladstone Institutes focuses on conditions with profound medical, economic, and social impact—unsolved diseases. Gladstone is an independent, nonprofit life science research organization that uses visionary science and technology to overcome disease. It has an academic affiliation with the University of California, San Francisco.
Source: Gladstone Institutes
Share: