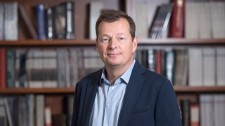 Robert Wicks appointed the new vice president of philanthropy
SAN FRANCISCO, September 25, 2018 (Newswire.com) - Robert Wicks has been appointed as the new vice president of philanthropy at the Gladstone Institutes and CEO of the Gladstone Foundation. A former educator and entrepreneur, Wicks served for over a decade in leadership roles at Stanford University and Dartmouth College.
Prior to joining Gladstone, Wicks led Dartmouth's West Coast Advancement Office, where he assembled a team that produced several record-breaking fundraising years. He also launched the Dartmouth Founders Project, an innovative pre-IPO philanthropy program that has served as a model for similar initiatives throughout the country.
People are looking for concrete and meaningful ways to change the world for the better and we have no shortage of those at Gladstone.

Robert Wicks, VP of philanthropy, Gladstone Institutes
Wicks began his fundraising career at Stanford University and held multiple frontline roles in Southern California and Silicon Valley during a period of back-to-back capital campaigns. He has worked closely with the venture capital, private equity, and entrepreneurial communities to develop new approaches to philanthropy and volunteer engagement.
In his new role at Gladstone, Wicks will oversee the strategic direction of a philanthropy team focused on major and principal gifts.
"We are thrilled to welcome a creative thinker like Robert to our leadership team," said Gladstone President Deepak Srivastava, MD. "With his vast network and expertise, he will help expand Gladstone's reach and generate critical support for the important work conducted by our investigators to find better treatments and cures for the world's deadliest diseases."
Driven by Solutions
"I feel like I have been gravitating to a place like Gladstone for a long time," said Wicks. "I have spent most of my career at top-tier universities, but have never seen an intellectual community as laser-focused on solutions and so adept at collaborating as the researchers at Gladstone."
Wicks has always been drawn to groups seeking solutions. At Stanford, he taught fundraising workshops in the Design for Extreme Affordability course. He has also advised a number of social entrepreneurs and non-profit organizations working toward scalable solutions to poverty alleviation and global health issues.
"It was the scientists' intellectual drive that first drew me to Gladstone," said Wicks. "They all share an incredible capacity for wonder and determination to keep forging ahead, even in the face of some pretty vexing problems. I am so excited to contemplate the role philanthropy can play in all that."
New Approach to Philanthropy
According to Wicks, a new type of philanthropy is emerging in the San Francisco Bay Area. The technologists and entrepreneurs who found success in this area are now in a position to make a significant mark on the world, and giving back is becoming a larger part of the culture.
"People are looking for concrete and meaningful ways to change the world for the better and we have no shortage of those at Gladstone," added Wicks. "The researchers here are working on diseases that directly affect each of us in one way or another. It's hard to be more concrete or impactful than that."
###
About Robert Wicks
Robert Wicks has a BA in English from Binghamton University, and was a Ph.D. candidate in the English Department at UC Berkeley. Prior to joining the Gladstone Institutes, he was the director of West Coast Advancement at Dartmouth College based in the Bay Area. From 2006 to 2014, he worked in a series of frontline fundraising roles for Stanford's Office of Development and the Graduate School of Business, specializing in the venture capital and entrepreneurial communities.
Wicks started his career teaching 18th-century literature at UC Berkeley, before becoming a creative director for Seed Productions and founding a sustainable design firm that partnered with Argonne National Labs and the Department of Energy. He is a board member for YCore, and has served as an advisor to the social entrepreneurs at the Draper Richards Kaplan Foundation, the Hasso Plattner Institute of Design at Stanford, and Care Message.
About the Gladstone Institutes
To ensure our work does the greatest good, the Gladstone Institutes focuses on conditions with profound medical, economic, and social impact—unsolved diseases. Gladstone is an independent, nonprofit life science research organization that uses visionary science and technology to overcome disease. It has an academic affiliation with the University of California, San Francisco.
Source: Gladstone Institutes
Share: