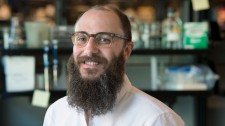 Shipman will build new technologies to understand the development of the brain
SAN FRANCISCO, November 19, 2018 (Newswire.com) - Seth Shipman, PhD, is a scientist whose promising work combines synthetic biology, genetics, and neuroscience to study the development of the human brain. Using these various approaches, he builds new tools and technologies to not only advance his research but to propel the entire field of biology.
Having recently completed a postdoctoral fellowship at Harvard Medical School, Shipman is now joining the Gladstone Institutes as an assistant investigator. He will also hold a faculty appointment in bioengineering and therapeutic sciences at UC San Francisco (UCSF).
"We are thrilled to welcome Seth to Gladstone," said Katherine Pollard, PhD, director of the Gladstone Institute of Data Science and Biotechnology launched earlier this year. "In addition to developing genomics tools, he is eager to expand the use of his technologies across multiple disease areas, which is particularly relevant to the spirit of our new institute."
Shipman has worked with mammalian cells, particularly neurons, as well as bacteria. As most scientists usually specialize in either one or the other, they don't often trade tools that could be useful in both fields.
"I see an opportunity to take bacterial tools and apply them to human cells," said Shipman. "I'm very excited to set up my new lab at Gladstone and build technologies to drive my science, as well as share them with fellow investigators who will be able to apply them to their own disciplines."
Searching for the Perfect Balance
Shipman has been familiar with Gladstone since his graduate studies, which he completed across the street at UCSF's Mission Bay campus. But he knew long before then that he wanted to become a scientist.
"I loved science growing up, and I was really into physics in high school," he recalled. "I gravitated towards biological questions in fields where I could incorporate notions of physics, such as systems biology, computational science, and neuroscience."
During his undergrad, Shipman majored in neuroscience. As he observed rats running through mazes, he realized he wanted to conduct research that more closely applied to human biology and human disease.
He then worked as a research assistant, using functional MRI techniques to study patients with psychiatric disorders. Although he was working directly on diseases, he hoped he could delve into the cellular and molecular mechanisms that caused them.
Shipman finally found the balance he was searching for when, as a postdoctoral fellow, he joined a tool-building laboratory focused on genetics, bioengineering, and synthetic biology at Harvard Medical School. The team was led by George Church, PhD, who developed the methods used for the first genome sequences.
Since that time, Shipman continues to be driven by his fascination with biological tools. He even named his son after Andrew Huxley, who designed the earliest applications of electrophysiology, a technique commonly used in neuroscience today.
"My postdoc experience changed the I way I approach science," said Shipman. "I realized I could fill important gaps in places where I knew what I wanted to investigate, but couldn't get there with the existing technologies. I can finally develop the tools I need to test the ideas that can't be studied in intact animals."
Learning by Building
Through his research, Shipman is interested in gaining a better understanding of the molecular processes that take place in cells over time. He is studying how undifferentiated cells can develop into specific types of cells, and how they then organize into very complex tissues. More specifically, he focuses on how neurons can create intricate networks in the developing brain.
"It's quite unique to have a synthetic biologist like Seth working directly on human disease in an institution like ours," said Deepak Srivastava, MD, president of Gladstone. "By combining CRISPR gene editing and induced pluripotent stem cell technology—both strengths at Gladstone—with tools from synthetic biology, he is finding new ways of acquiring data from cells."
Studying what happens in cells over time is extremely difficult with current techniques and usually involves destroying the cell you are observing. So, Shipman is developing a new method to record information into the DNA of human cells with molecular recording devices.
"We are essentially creating a miniature lab in the genome of the cell to collect information while that cell is alive," explained Shipman. "We use DNA as a method of storing information in the cell, and with existing sequencing technology, we can retrieve the data later to see what happened inside the cell while it developed. And this all happens without destroying the cell during a critical moment in its history."
In addition, Shipman aims to engineer exceptionally small circuits, made of only three cells, to understand how the development of different cell types leads to the early wiring of the brain. These circuits will allow him and his team to study specific synaptic connections between neurons.
"This is a way of learning by building," he said. "If we can engineer a specific three-cell circuit, we will learn about the fundamental biology of how a neuron decides to which other neurons it will connect. We're hoping to use these very simple systems, in which we can manipulate all the variables, to gain insight into what might be going on in the human brain, where it's much more complicated."
Shipman's research models will be critical to better understand neurodevelopment and neuropsychiatric disease, such as autism, schizophrenia, and bipolar disorder. They could also eventually lead to new methods to treat diseases of degeneration and aging.
"These diseases are incredibly devastating, yet they are so poorly understood," said Shipman. "My lab's work will hopefully help define what's causing these problems and make a significant difference in the lives of people who are affected."
For Shipman, opening a laboratory at Gladstone, in the center of San Francisco's innovation hub, is a key factor in achieving this goal.
"If we make a useful technology, we'll actually be able to get it into the hands of people who can use it, because there's an apparatus here to facilitate that process," he said. "Gladstone is also exciting because scientists are really pushing the boundaries. I look forward to interacting with my colleagues who have entirely distinct areas of research and finding points of overlap on which we can build collaborations. I can't wait to get started."
###
About Seth Shipman
Seth Shipman is an assistant investigator at the Gladstone Institutes. He also holds a faculty appointment in the Department of Bioengineering and Therapeutic Sciences at UC San Francisco (UCSF), where he obtained his PhD in neuroscience, studying the cellular and molecular mechanisms that underlie learning and memory.
He then completed a postdoctoral fellowship at Harvard University in the laboratory of George Church, during which he developed CRISPR-based cellular recording techniques to pursue his research on understanding how the developing brain is organized.
About the Gladstone Institutes
To ensure our work does the greatest good, the Gladstone Institutes focuses on conditions with profound medical, economic, and social impact—unsolved diseases. Gladstone is an independent, nonprofit life science research organization that uses visionary science and technology to overcome disease. It has an academic affiliation with the University of California, San Francisco.
Source: Gladstone Institutes
Share: